Between Florida, California and Hawaii,
you may think you've heard the sales pitch for every U.S. beach by now…
But you haven't heard anything yet.
Welcome to Trunk Bay, widely considered one of the most pristine, best-preserved beaches in the Caribbean. It's stunningly white-sanded and gorgeous, for sure. But the best part is you don't need a passport to visit. Yup, this place is actually inside a U.S. national park.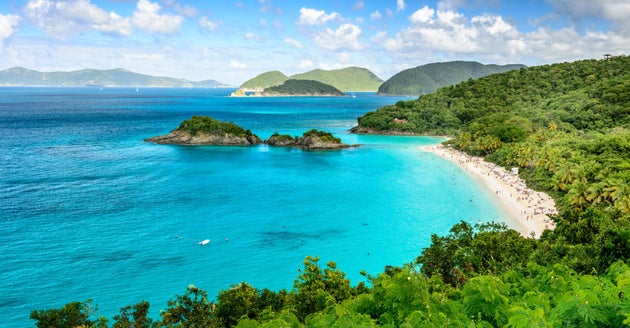 Trunk Bay is located on St. John, a delightfully low-key corner of the U.S. Virgin Islands that's known for its secret beaches. The Rockefeller family donated more than 5,000 acres of the island to the U.S. government in the 1950s, creating what's now known as Virgin Islands National Park.
Trunk Bay is the park's crown jewel, with its perfect blue water, soft white sand and an underwater snorkeling trail with real-deal signs that point to highlights among turtles, coral and hundreds of exotic fish species. If you ever happen to find yourself on a cheap flight to the Caribbean, you can land in nearby St. Thomas and take a ferry to St. John and its blissful bay. Cruise ships also stop by once in awhile.
Let's Plan Your Dream Vacation
When you plan travel with Vacationisms, you're shopping small and supporting a privately owned business based in Goffstown, NH.
We're owned by a husband and wife power duo living locally with their two-nager. Yes, two-nager. When you plan your travel with us, you aren't only supporting our amazing team, you're supporting the community, too. We reinvest heavily in our community in social advocacy, youth development and athletic programs, and we too shop small. We believe that our community is important and we appreciate your business to allow us to continue.